Explore Earth and Environment
The genetic secrets to extraordinary longevity, superhero-like healing and regeneration, and resistance to feeding disorders could be found hidden within the Earth. In underground caves in Dinaric Karst along the Adriatic Sea in the Western Balkans lives a cave salamander, the olm, whose remarkable adaptations mean its genome holds great promise for biomedical research. Dr Rok Kostanjšek and an international team of scientists at the Proteus Genome Research Consortium are tackling the challenge of sequencing the huge olm genome, to provide the basis for studying its unique genetic characteristics.
read more
Our brain's network structure consists of many interconnected regions, each containing billions of neurons. Many neurons within one region fire electrical signals at the same time, in synchrony, and even neurons across different regions may synchronise. These are known as synchronous clusters. The collective firing of neurons in synchronous clusters is believed to create brainwaves. Brainwave measurements of patients with epilepsy have shown that during seizures, there can be episodes of excessive synchrony. The mechanisms behind these episodes are not well understood.
read more
For coastal communities, one of the most worrying effects of climate warming is rising sea levels. Even if we halt all greenhouse gas emissions today, the oceans are predicted to rise by more than half a metre by the end of the century, threatening coastal cities, including Manhattan, Vancouver, Lagos, Shanghai and Tokyo. In addition to displacing millions of humans, rising seas will alter natural coastal environments and ecosystems.
read more
Human activity slowed in 2020 due to the COVID-19 pandemic. Environmental researchers have taken this opportunity to investigate how ecosystems respond to a decrease in human-related stressors. One human-related stressor is shipping, which can impact ocean ecosystems by creating intense underwater sounds. Fritjof Basan and his colleagues at the Federal Maritime and Hydrographic Agency of Germany set out to determine whether reduced shipping activity in 2020 significantly affected the underwater soundscape.
read more
Walnuts are one of the most nutritionally dense foods on the planet, and could play a large role in achieving global food security. However, in non-organic walnut orchards, chemical fertilisers are typically applied to boost nut yields. When excessive amounts of these chemicals are applied, they can leach into the surrounding environment, damaging local ecosystems. To ensure that correct amounts of fertilisers are applied to walnut orchards, leaf samples are often analysed beforehand, but analysing enough leaf samples is time consuming and expensive. Now, Dr Ana Elisa Rato, Dr Adélia Sousa and their colleagues at MED Institute in the University of Évora have developed an inexpensive approach to assess nutrient levels in walnut orchards, by harnessing the power of satellite technology.
read more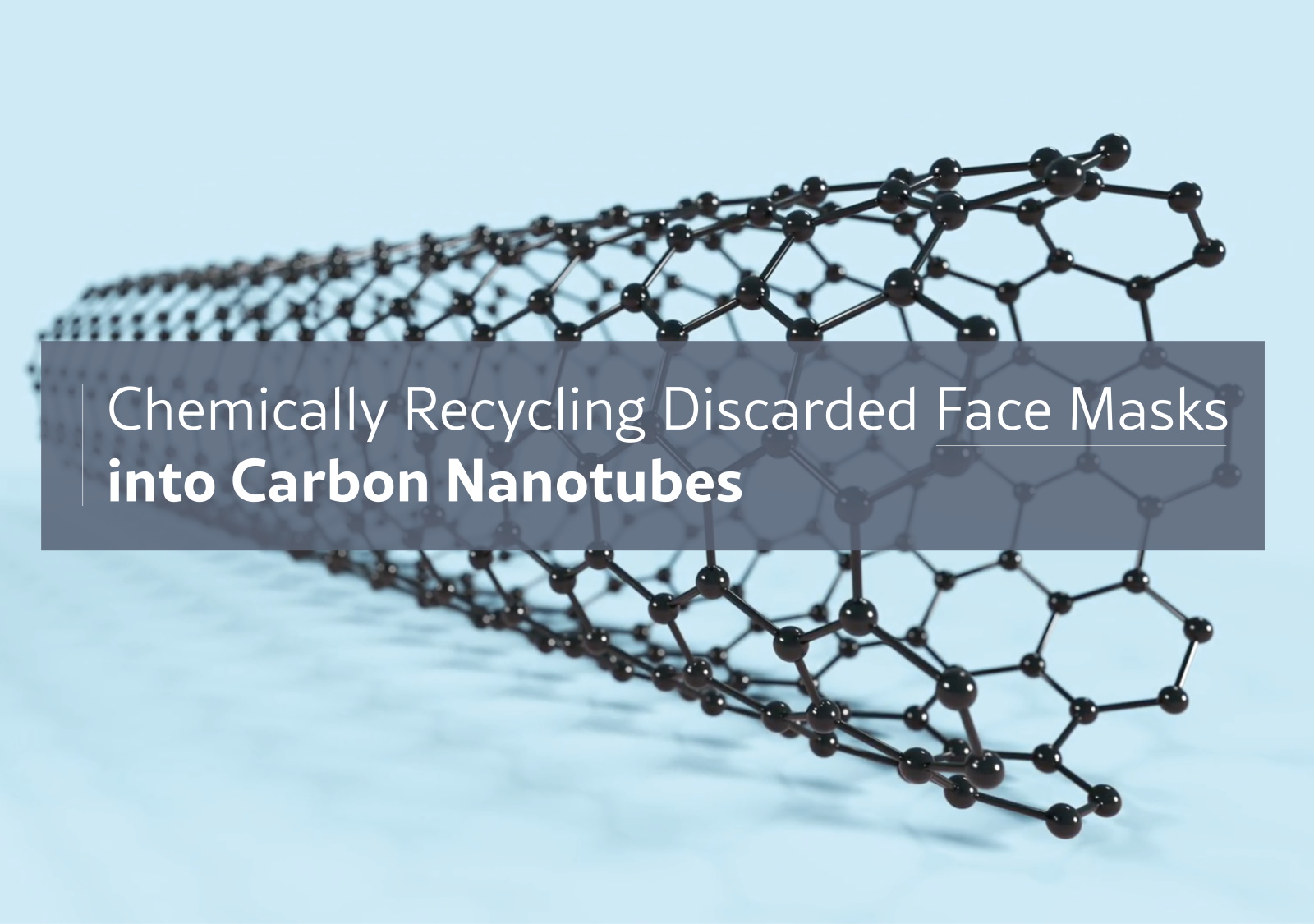 Dr Alvin Orbaek White and his colleagues at the Energy Safety Research Institute, based at Swansea University, have shown that chemically recycling discarded face masks to create carbon nanotubes may provide a valuable resource as well as tackle the environmental issue of waste.
read more
Researchers Dr Thomas Arciuolo and Dr Miad Faezipour propose harnessing the mighty energy reserve within the Yellowstone Supervolcano to generate clean, emission-free power – turning the Yellowstone curse into an immense blessing.
read more
The global climate crisis poses a major threat to human civilisation. The combustion of fossil fuels to generate energy is the primary cause of this crisis, due to the greenhouse gases released into the atmosphere. At the same time, the Earth faces another great crisis. Underneath Yellowstone National Park in Wyoming, USA, lies one of Earth's most powerful volcanoes, which has the potential for an eruption that would be catastrophic to the entire world. Researchers Dr Thomas Arciuolo and Dr Miad Faezipour propose a solution to both of these problems, by harnessing the mighty energy reserve within the Yellowstone Supervolcano to generate clean, emission-free power – turning the Yellowstone curse into an immense blessing.
read more
Between 800 and 1000 CE, one of the world's most advanced ancient civilisations underwent a devastating decline. The collapse of ancient Maya society has widely been attributed to a century-long drought; but so far, there have been few efforts to quantify this event, or to equate scientific findings with historical sources. Through new geological and paleoclimatological analyses, Dr Martín Medina-Elizalde at the University of Massachusetts, Amherst has revealed that the climate changes experienced during the drought followed more complex patterns than previously thought. His team's discoveries could have important implications for predicting our own society's future.
read more
Climate change is threatening the world's marine ecosystems in myriad ways, due to rising temperatures, ocean acidification, and sea-level rise. Another often-overlooked effect is that warmer temperatures and changing weather patterns can alter the transmission of many marine parasites and infectious diseases. Such diseases don't just impact their host populations, as cascading effects can disrupt entire ocean food webs. Krti Tallam at Stanford University studies the evolution of marine parasites and diseases, along with the broader implications for marine ecology. In a recent review paper, Tallam focuses on critically important ecosystems within intertidal zones.
read more
When a species' habitat shrinks, its populations decline. Individuals that persist in remaining islands of habitat have no choice but to breed with their relatives, reducing the health and fertility of their offspring. Researchers at Monash University seek to increase genetic diversity in small populations, helping them rebound. They have established 'genetic rescue' methods to save many endangered species from extinction, collaborating with wildlife agencies to test solutions.
read more
The College of Agriculture and Natural Resources at the University of Maryland College Park provides exciting student experiences through three innovative programs: AgDiscovery, Summer Opportunities in Agricultural Research and the Environment (SOARE), and SOARE: Strategic Work in Applied Geosciences (SOARE:SWAG). These educational initiatives aim to build a stronger scientific workforce by inspiring young people from underserved communities to pursue science careers.
read more
Historically, controlled forest burning in western North America created a forest patchwork that limited the size and severity of wildfires. Over the last 200 years, however, fire suppression created large areas of dense tree stands. As droughts and temperatures increase due to climate change, these dense forests are now at increasing risk from extremely severe wildfires.
read more
Increase The Impact Of Your Research!
Explore partnership opportunities